"You are what you eat." It's a pithy phrase you've likely heard countless times from doctors, nutritionists, and the like. But in recent years, digital marketers have put a new spin on the common adage. When it comes to SEO, your site is only as healthy as its E-A-T.
Expertise, Authoritativeness, and Trustworthiness: These are the simple ingredients Google's Search Quality Raters are looking for when they taste-test your website. Simple? Yes. Easy to achieve? Not without a closer look at Google's guidelines and a deep understanding of your industry and consumer expectations.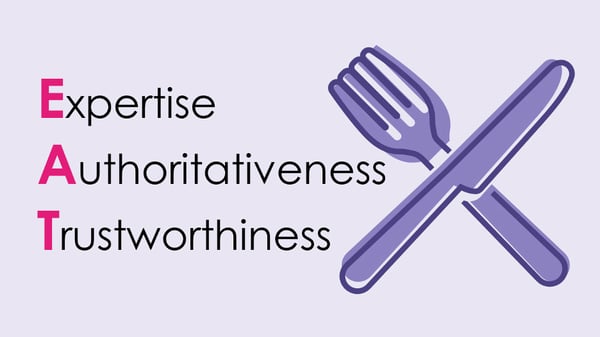 WHAT IS E-A-T?
The term E-A-T was first introduced in 2014 when Google updated their Search Quality Raters Guidelines (QRGs) to include the concept.
Keep in mind that while your website's ranking in Google search results is determined by a complex algorithm, that algorithm is designed and informed by real people. Google is regularly tweaking its algorithm in an effort to provide users with the best and most accurate online search experience possible. One way they do that is by employing a team of Search Quality Raters: human evaluators tasked with the responsibility of assessing websites and determining their value and validity. A Search Quality Rater's evaluation of your website does not directly affect your site's ranking. Rather, Google uses these assessments as essential data points when updating their algorithm.
What does this mean for your website? In the simplest terms, if your site is not meeting the standards of the QRGs, Google's next algorithm update could deliver a major hit to your rankings and organic traffic. Furthermore, if Google's Search Quality Raters consider your site untrustworthy, it's possible your audience feels the same.
Ultimately, improving your site's E-A-T is a proactive measure that can have a positive impact on SEO, user experience, and your brand's overall reputation.
The QRGs instruct Search Quality Raters to perform evaluations based on:
The expertise of the creator of a site's content
The authoritativeness of the content creator, the content itself, and the site as a whole
The trustworthiness of the content creator, the content, and the site as a whole
In everyday language, these three terms are often used interchangeably. At the very least, their meanings have a lot of overlap. So, how do Google's Search Quality Raters measure expertise, authoritativeness, and trustworthiness individually?
EXPERTISE
This concept is related only to the creator of the content on an individual webpage. Raters are looking for evidence of competence, depth of knowledge, and technical skill relevant to the subject matter.
Tips for Beauty/Wellness Brands: This does not mean your blog author must be a cosmetologist, dermatologist, or even a professional makeup artist. According to the QRGs, "Some topics require less formal expertise…If it seems as if the person creating the content has the type and amount of life experience to make him or her an 'expert' on the topic, we will value this 'everyday expertise'...Sharing personal experience is a form of everyday expertise." A writer with a passion for beauty, cosmetics, and wellness and/or experience with your products will likely be viewed as having "everyday expertise." The key is demonstrating evidence of the content creator's expertise by making clearly accessible their full name, bio, photo, social media links, and links to any relevant published work.
AUTHORITATIVENESS
Content's authoritativeness is evaluated based on the content itself and the domain as a whole. The main indicator of authority is the strength of external signals: primarily the page and site's backlink profile. Links to your site are viewed as a "vote of confidence" from a neutral third party. If a website Google already considers authoritative links to your site, you may be seen as having authority by association.
Tips for Beauty/Wellness Brands: The idea of authoritativeness is essentially that people look to your brand as a leader in your industry. When makeup, skincare, and wellness consumers have questions, who do they turn to for answers? When beauty bloggers and influencers want to give advice to their audience, who do they cite as a source? Establish your brand and your website as an authority by producing content that is fresh, novel, cutting-edge, and valuable to consumers. But don't stop there. Spread the word to leading publications and influencers in the beauty industry to expand your brand awareness and build your backlink profile.
TRUSTWORTHINESS
Like authoritativeness, trustworthiness is judged by both the content itself and the credibility of the entire website. However, this is where Raters take a deeper dive into a site's reputation, looking beyond the volume of backlinks and focusing more on the quality and sentiment of those references. The QRGs state, "Very positive reputation is often based on prestigious awards or recommendations from known experts or professional societies on the topic of the page." On-site mentions of awards and accolades can indicate a strong reputation, as can offsite signals like social media mentions and engagement, ratings and reviews, and links or citations from industry experts. Not to be overlooked is the quality of a site's content—can people trust that the information is accurate and honest?
Tips for Beauty/Wellness Brands: Begin by creating content that is authentic and backed by research. Publishing false claims is the quickest way to lose trust. Always cite your sources, ideally with a link, and quote industry experts whenever applicable. Next, make sure any awards or accolades your brand has received are clearly displayed on your website. Provide links to external sources as evidence of your achievements. Finally, keep a close eye on your brand's reputation across social media and user-generated review platforms.
E-A-T AND QUALITY CONTENT
If an SEO professional has ever said to you "content is king" or offered the advice "just create high-quality content," you may have been left wondering "what exactly makes content high-quality?" While we've covered this concept in more detail in previous blog posts, when it comes to E-A-T, the most important factors to consider are those outlined in Google's QRGs.
According to the Search Quality Raters Guidelines, high-quality content should be:
Helpful to users
Created by an expert
Published on an authoritative website
Trustworthy
Updated regularly
Ultimately, every page on a website must serve a specific purpose, and that purpose must be accomplished in a way that benefits the user. From product pages to contact pages to blog posts, the content on each page provides a different function. The quality of that content is determined by how well it meets its user-focused objective.
BEAUTY AND WELLNESS BRANDS: ARE THEY YMYL?
YMYL stands for "Your Money or Your Life," and when it comes to E-A-T and the QRGs, websites that fall under this category are the most carefully scrutinized.
Google defines YMYL sites as those that "… potentially impact a person's future happiness, health, financial stability, or safety." This category covers content related to:
News and current events

Civics, government, and law

Finance

Shopping

Health and safety

Groups of people

Other topics related to big decisions, such as housing information, education, employment, etc.
Expertise, authoritativeness, and trustworthiness are critical components of a website whose content could affect a person's health, safety, legal situation, or financial standing. So clearly, law firms, medical practices, and financial institutions have a responsibility to abide by these guidelines when publishing content online. There's no question as to whether these websites are considered YMYL.
But what about beauty, skincare, and cosmetics brands? Is your site a YMYL site?
Although you may not consider your content life-altering or potentially harmful medically or financially, the answer is yes.
Websites for beauty, skincare, cosmetics, and wellness brands are YMYL sites, especially if products are sold or health-related information is present.
Because money is exchanged, any ecommerce site automatically falls under the YMYL category. Trust is crucial for any site accepting financial transactions. If you sell makeup or skincare products online, E-A-T is essential to your beauty marketing strategy.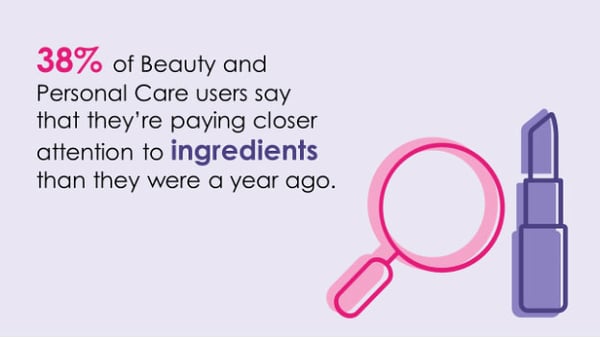 Cosmetics are inextricably linked with health, as is anything that is applied topically to the skin. Even in the case of eyeshadow, for example, a product that is not intended to have any health or medical effect, information on ingredients and application is essential to a safe user experience. In fact, 38% of Beauty and Personal Care (BPC) users say that they are paying closer attention to ingredients than they were just a year ago. Twenty percent of BPC consumers admit that they don't trust product claims that aren't proven by science. These statistics show that like Google's Raters, everyday consumers are looking for some level of E-A-T when evaluating beauty brands.
Tips for Beauty Brands: Beauty and skincare marketing in 2022 is all about transparency as consumers are adopting an "ingredient-first" approach to shopping. Shine a spotlight on the features consumers are looking for in a product; do this on both your product detail pages and in your blog content. Establish expertise, authoritativeness, and trust by citing skincare experts and providing scientific data that supports the efficacy and safety of your products.
ESTABLISH E-A-T WITH SEO
In the end, E-A-T comes down to authenticity. It's a simple concept, but the burden of proof is on you as a beauty/wellness brand and website owner. You encourage your audience to bring out their inner beauty, to express themselves authentically, to shine inside and out with a little boost from your products—why shouldn't you do the same with your website? Show the world (and Google) who you are: industry experts with authority and trust.
Stella Rising's award-winning SEO team has extensive experience helping beauty and wellness brands boost their online visibility and reputation through on-site and offsite strategies that build E-A-T. Reach out to us today to learn more about how our beauty industry SEO services can work toward establishing your brand as an authority in your field.
Additional Sources: Mintel, "Ingredient Trends in Beauty and Personal Care," 2021