From #FakeNews to live video, social media was central to every marketer's strategy in 2017. This year, social is poised for more disruption. Here, we look at some of the social features and trends that marketers can expect in 2018.
Facebook
Facebook had its ups and downs in 2017. Despite the controversies surrounding social media and election interference and overstated view counts, Facebook has experienced growth across its user base and ad sales platform. Worldwide, there are over 2.07 billion monthly active Facebook users—a 16% increase year-over-year. The sheer size of its audience has made Facebook a priority for marketers, but the days of organic reach are gone and paid advertising is the only way to reach scale on the platform.
In 2018, Facebook ads will account for 23% of total digital ad spend in the U.S., taking in $1 of every $10 spent on all digital and non-digital advertising combined for a total of $21.57 billion in ad revenue. To put this in perspective, this is twice the amount spent on newspaper advertising and nearly as much as advertisers will spend on the entire print category. As a result of government probes into Russia-backed election advertising, Facebook is taking steps to offer consumers greater ad transparency which will have implications for consumers, publishers, and marketers alike. Finally, Facebook is betting on video and quietly rolled out their Facebook Watch option to select users in 2017. Some speculate we might see a Facebook app dedicated to video in 2018 to compete with YouTube.
Instagram
Instagram released more than 20 features to its platform in 2017, with most of the innovation taking place within its Stories feature. Stories has become one of the platform's most-used features with more than 250 million daily users (compared to Snapchat's 173 million). Consumers are spending more time on Instagram since the launch of Stories, about 28 minutes per day—this is roughly 10 minutes longer than time ranges collected before the launch of Stories. Instagram has quickly become a favorite platform for advertisers; almost 73% of marketers are actively using the platform. That share is expected to grow as it becomes increasingly difficult to scale organically and marketers shift to a paid strategy. As consumers acclimate to social commerce, shoppable ads on Instagram will grow in frequency and effectiveness. Hashtag follows will also be one to watch, as brands will be competing for discovery on the basis of hashtags and they'll become increasingly competitive.
Snapchat
Although Snapchat has struggled to find an audience among older consumers, it's still a favorite among Millennials and Gen Z. Late last year, Snap Inc. CEO Evan Spiegel announced plans to redesign the platform to make it easier to use, offer more personalized content through Snapchat Stories, offer users the ability to make Snapchat Lenses, redesign the Android app, and grow adoption among international audiences and older users. Although Snapchat's VR lenses can generate engagement, 96% of advertisers say they would prefer to buy ads on Instagram Stories over Snapchat Stories due to better ad targeting and larger user base—huge challenges for Snap to overcome.
YouTube
YouTube has dominated digital video and continues to be the go-to platform when consumers want to learn something new or simply entertain themselves. Although YouTube has over a billion users, almost one third of all consumers on the internet, issues surrounding brand safety have plagued the platform and given advertisers pause. YouTube has promised to take additional steps to protect advertisers and creators from inappropriate content on its network including increasing staff to moderate content and remove video that violates its policies and guidelines.
How Do Consumers Feel About Social Platforms?
A recent poll found that consumers have mixed feelings about social platforms. Although they're using social more than ever before, there's a significant segment of the population that wouldn't miss some platforms if they disappeared.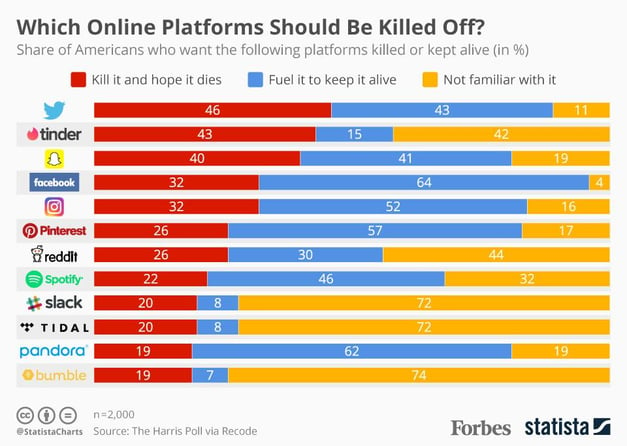 As the year unfolds, there's no doubt there will be a few surprises in social. Women's Marketing stays on the cutting edge of media trends to offer our clients the most effective strategies for their brand. Learn how our suite of marketing services, including social media strategy, can help your brand thrive in a competitive marketplace. Contact us today to learn more.
Sources: eMarketer U.S. Social Trends for 2018: eMarketers Predictions for the Year, Variety What Will Snapchat Look Like in 2018, Madison.com Almost Every Advertiser Prefers Instagram Over Snapchat January 2018, Social Media Today 6 Social Media Trends that Will Take Over 2018; The Harris Poll 2017