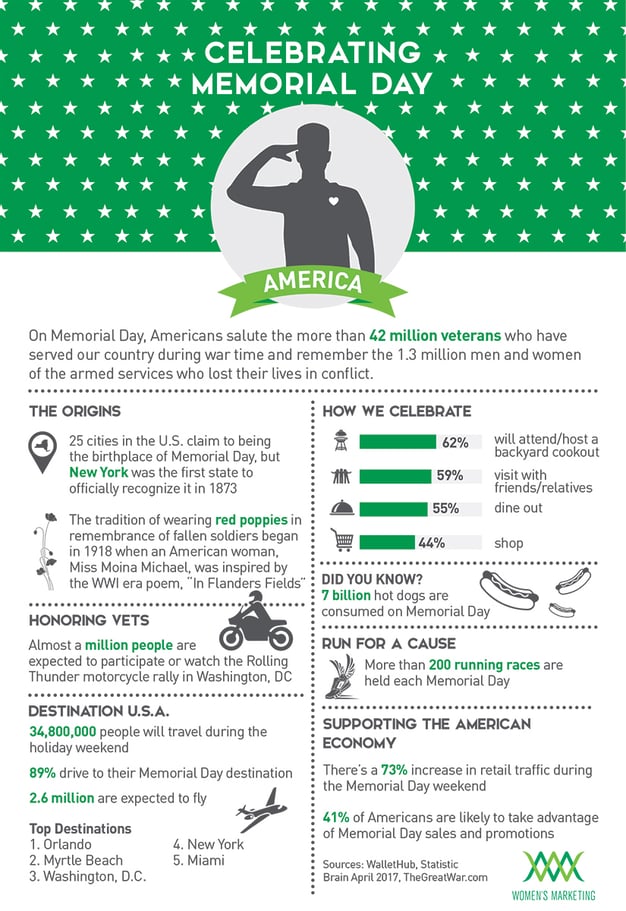 On Memorial Day, Americans salute the more than 42 million veterans who have served our country during war time and remember the 1.3 million men and women of the armed services who lost their lives in conflict. How does your brand pay homage to these brave men and women? Do you acknowledge them on social media? Participate in sales and promotions? In our infographic, you'll learn what Americans will be doing on this holiday weekend and offer insight into how marketers can develop marketing strategy that reaches them in moments that matter most.
5 Ways Americans Celebrate Memorial Day
1. 34,800,000 people will travel during the holiday weekend
2. 62% will attend or host a cookout
3. 59% enjoy a visit with friends/relatives
4. 55% will dine out
5. 44% plan to shop
Contact us to learn about our suite of marketing services. We excel at helping brands marketing to women to break through in the beauty, fashion, health and wellness, and food and beverage categories.